Jupi, I'm so psyched! Yesterday I realised my project 'Hotel Supramonte'!:-)
I'm so happy, because my fitness before coming here to Sardinia was not so good.
First day my boyfriend Cédric climbed the route as well and he did the biggest fight of his life! My dear, the poor Cédric was so destroyed from the Boulderworldcup in Switzerland three day's before. He finished 4th and he put all his energy in this competition.
The last time he missed the on-sight, so he really wanted to do this route too. Haha, the fights he did, it was incredible!
His attempt was the perfect possibility for me to reclimb the route in toprope and to checking out once again the hardest parts.
Cédric reached tho top with only one fall in the first 8b. But he reclimbed it once more from the stand and after he did all the pitches in the first go.
After this hard and longe day, we were completly destroyed and we needed two good recovering days on the beach of Cala Ganone.
Unforunately I lost my contact lens on the second day and so I had to climb with my glasses. My dear, I was so scaried to loose them in the route so I attached a little band with tape. Yes, you can laugh, I was looking like a grand mother!;-)
Sometimes we have to improve and to accept!
Like always before attacking a big project, I was really nervouse! But at the same time sooo psyched, because the route is juste fantastic!
The first 7b was an easy going, but the second 7c+ was really hard for me. Limit I did the bouldercrux. Cédric jumared all the pitches and he also haul the bag. So I just had to climb and to fix the rope.
Pitch 3, was a long endurance 8b with a crux in the first part. I loved this pitch, it was defently my favorite one! I really enjoyed to climb this one and it gaves me like little fins!;-)
The next long 8a+ was the hardest for me. There were a lot of scaried moves and sometimes strange to climb. And like I knew that it was the hardest for me, I felt really on the top….ahhhh…this fall costed me a lot of power. But on the second go I did also this one and from this point it was clear for me that I will go to the really end of the route!
The next 8b was a long traverse on lillte colonettes and with the perfect cold wind I climbed the crux without hasitation.
When I reached the top from this pitch, I was sooo happy and the rest of the route (7c, 7a, 7b, 7b+, 7b and 6b+) was like climbing  to the heaven.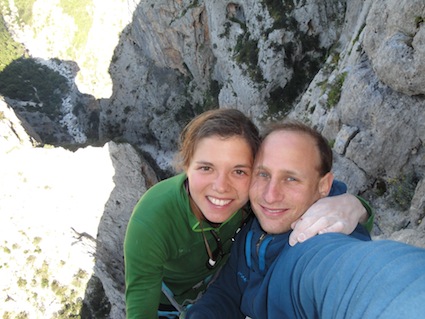 After a little soloing in the last 6b+, Cédric and I, we reached the top of Hotel Supramonte! JUPI!!!!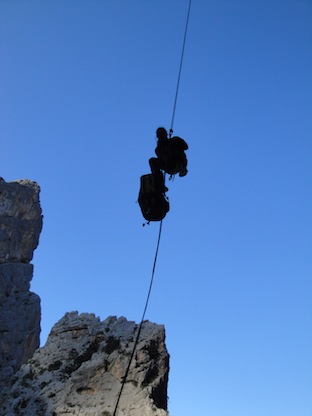 Now we will profite some more days here in Sardinia. Climbing easy sportclimbingroutes and in a few days, we will return to take some good photos with Stefan Schlumpf. (I agree, my photos are really really bad!!!!;-))